Case Study - Compressor Station
New Wilson Compressor Station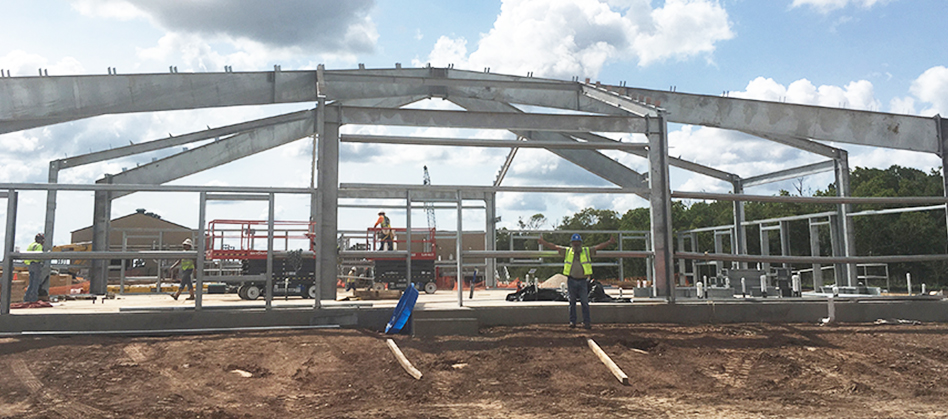 The New Wilson compressor station is one of the four projects USSI completed as part of The Coastal Bend Header Project and supports 66 miles of 36-inch diameter pipeline header located in Brazoria and Wharton Counties that will deliver gas to the Freeport LNG Development terminal.

Included on the site are: two 10,350 hp Solar Taurus 70; and three 20,500 hp Solar Titan 250 turbine-driven compressor gas packages. USSI designed, supplied and erected the three compressor buildings with the sizes ranging from: 80'-0' x 65'-0" x 26'-0" to 80'-0" x 80'-0" x 26'-0". As part of the project, USSI also provided the auxiliary building office buildings.
USSI's Scope Of Work
Three (3) acoustic compressor buildings with an STC 40 rating
Three (3) - 15-ton underhung bridge cranes with 3-ton aux hoists
One (1) – 2-ton underhung bridge crane
Building ventilation to meet the specified noise levels of 60 dBA @ 50 ft.
STC 36 personnel doors
STC 36 personnel doors
Erection services
Acoustical Requirements
In accordance with the FERC sound level requirements, the noise level must be equal to or lower than 55dBA Ldn for the entire station. There were two close noise-sensitive area (NSAs) primarily residences located approximately 2,000 to 2800 feet from the station center. The compressor buildings are predicted to achieve approximately 40 dBA.
---
Project Case Studies
Related Videos
USSI 3D animation that explores acoustical compressor building applications